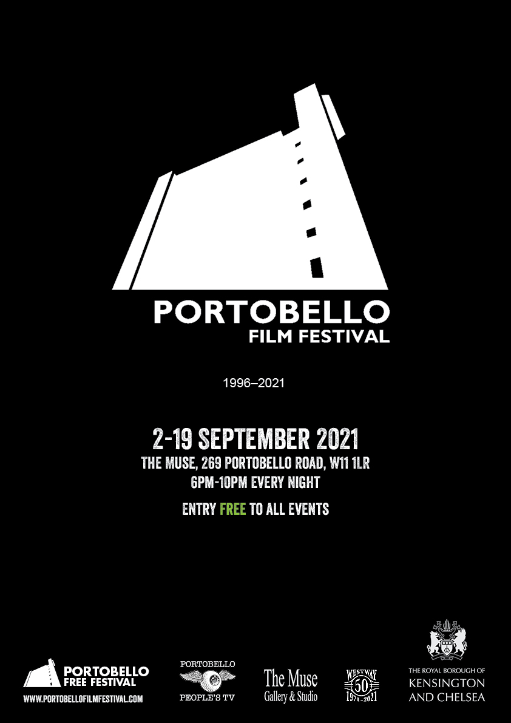 A feast of cutting edge international cinema!
A free feast of London, UK & International films from 6pm – 10pm every evening at the Muse, 269 Portobello Road, climaxing in an outdoor show on Portobello Rd itself by the bridge on Sunday 19 September with headphone sound and deckchairs and Birds Of Prey with Margot Robbie as Harley Quinn and Ewan McGregor.

Highlights this year include Courttia Newland, scriptwriter on two of Steve McQueen's Award winning Small Axe films for BBC. Courttia will introduce and answer questions on Lover's Rock.





Plus Portobello 2021 Art Exhibition.
Entry FREE 4 - 19 September at The Muse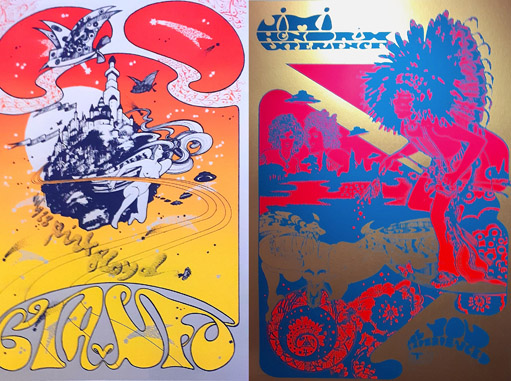 Nigel Waymouth was born in India in 1941 but his early childhood was spent in Argentina. In 1954 he moved to England, where he completed his education at University College London.
In February 1966 he launched the now legendary King's Road boutique, Granny Takes a Trip, for which he designed clothes as well as the regularly changing shopfronts that were it's signature feature. At the same time Nigel also began a graphic design partnership, Hapshash & The Coloured Coat, whose iconic psychedelic posters helped to define the aesthetic of the era. They are now part of the permanent collection of the Victoria & Albert Museum in London and are often featured prominently in the museum's retrospective exhibitions.

See website www.portobellofilmfestival.com and Facebook pages Portobello Film Festival and West London Film Network for updates and latest news throughout the Festival and many regular contributors.

International treats include ever popular and superfunky Spanish shorts and PFF exclusives from as far afield as Ukraine and Russia.
Many of UK/London films this year feature local movies by and about Portobello/North Kensington people include films made by kids from Octavia local charity.

Enjoy Art movies by automaton maverick Giles Walker and about the recent Art In The Age Of The New at Fulham Town Hall starring Glastonbury artist in residence Joe Rush.
Come and check out the future of film, the state of the art, all for free at the Portobello Film Festival.

Sensible Covid precautions are suggested with PPE, sanitization, and social distancing where possible. Let's stay safe people.
Big thanks this year to Royal Borough of Kensington & Chelsea Arts Service, Westway Trust celebrating 50 years in a big way, and the Muse Gallery/Tavistock Festival for support and longtime rapport above and beyond.

Cast & Crew
Jonathan Barnett- Director
Raymond Myndiuk-Programmer
Leon Flude- Coordinator
Greg Edwards- Logistics
Phil Underwood - Design
Thomas Szabo- Website
Charles Adiran-Front Of House
Hugh Gulland-Troubleshooter
Janet Smith- Communications
Dave Pitt- Phone A Friend
Dave Barnard-IT
Damian, Gosia & Penny at The Muse


Free PPE will be available including: Masks and sanitiser
We recommend wearing a mask at all time on the premises.
Track and trace QR's and a visitors book will be at our PPE station on the door.



6pm – 10 pm
Entry Free to All Events
Some Covid precautions in place



THU 2 SEPT

THE MUSE
6-10 PM
Ukrainian Films
full programme


SAT 4 SEPT

THE MUSE
6-10 PM
London & British Films
full programme


MON 6 SEPT

THE MUSE
6-10 PM
London & British Films
full programme


WED 8 SEPT

THE MUSE
6-10 PM
London & British Films
full programme


FRI 10 SEPT

THE MUSE
6-10 PM
Spanish Films
full programme


SUN 12 SEPT

THE MUSE
6-10 PM
USA & Canadian Films
full programme


TUE 14 SEPT

THE MUSE
6-10 PM
International Dramas
full programme


THU 16 SEPT

THE MUSE
6-10 PM
International Comedies
& Dramas
full programme

SAT 18 SEPT

THE MUSE
6-10 PM
Award Ceremony
full programme







VENUE

The Muse
269 Portobello Road, W11 1LR




FRI 3 SEPT

THE MUSE
6-10 PM
Spanish Films
full programme


SUN 5 SEPT

THE MUSE
6-10 PM
French Films
full programme


TUE 7 SEPT

THE MUSE
6-10 PM
Spanish Films
full programme


THU 9 SEPT

THE MUSE
6-10 PM
Russian Films
full programme


SAT 11 SEPT

THE MUSE
6-10 PM
Films From Germany /
Austria / Italy / Portugal
full programme

MON 13 SEPT

THE MUSE
6-10 PM
International Documentaries
full programme


WED 15 SEPT

THE MUSE
6-10 PM
Russian Films
full programme


FRI 17 SEPT

THE MUSE
6-10 PM
London & British Films
full programme


SUN 19 SEPT

PORTOBELLO ROAD
6-10 PM
Outdoor Tavistock Square Festival with Birds Of Prey
(full programme soon)