PORTOBELLO CARNIVAL FILM FESTIVAL 2008


1 Portobello Carnival Film Festival 2008
2 Lord Holland's Slavery to Work Scheme
3 The Notting Dale Gypsies
4 Portobello Busker Parades
5 1966 London Free School Michaelmas Fayre
6 1968 Interzone International Times Fair
7 1977 Two Sevens Clash Punky Reggae Party
8 1983/4 Aswad Live And Direct Carnival
9 1995 Hugh Grant Mas and Mayhem



PART 5
1966 London Free School Michaelmas Fayre

As the London Free School group organised the first Carnival in 1966, in spite of pressure from the police and Council to drop Michael X from the group, he stayed and the Carnival happened in late September; around the time of Michaelmas (the medieval quarter day when, appropriately enough, rents were due to landlords).
In Mike and Charlie Phillips' Notting Hill in the 60s, the Carnival king status of Michael de Freitas, aka Michael X and Michael Abdul Malik, was thus verified: "He was a visionary right, all this Carnival down in the Grove is down to Michael you know... what happened was those guys decided to come on the road one day and they come up out and they following he and the next thing he's talking to this woman who's running a neighbourhood thing down on Tavistock Road, Rhaune Laslett, and they twos up, and that kick off from there… I ain't say make an epitaph to him but..."
In the Souvenir Programme for the Official Hanging of Michael Abdul Malik by John Michell and Bill Levy from International Times, he was introduced as the 'W11 club man with the fatal amiability that led him to assume the fantastic roles.' VS Naipaul concluded that the 3 hippest hippies; Burroughs, Lennon and Trocchi; all fell for Michael's performance and patronised him as 'their own and complete negro', while 'to the Trinidad crowds Malik had become a 'character', a Carnival figure, to be beaten through the streets on Good Friday. Which was all that he had been in London, even in the great days of his newspaper fame as the X; the militant who was only an entertainer.'

The American Indian/Russian Carnival Influence
The 1966 Carnival founder Rhaune Laslett, recalled in the 1998 Touch/Time Out Carnival programme, that the modern event began as 'a celebration of poverty': "It was 2am and I had just finished dealing with a landlord and a tenant he was harassing. Suddenly I had this sort of vision that we should take to the streets in song and dance, to ventilate all the pent-up frustrations born out of the slum conditions which were rife at the time. We had a week of various events: old time music hall, poetry in the pubs, inter-pub darts matches, folk singers and theatre events."
Another social worker, John Livingstone, wrote to the Independent to dispel the myth that the Carnival began 'in response to racial unrest' in 1968: 'The odd thing was that, while we discussed every local social problem under the sun, race was in itself not one of them.' According to him, Rhaune Laslett started the Carnival for the local kids, whose parents couldn't afford to take them away on holiday, but instead got to meet Mohammad Ali, and see the World Cup in English hands on the other great 1966 parade along Ladbroke Grove.
Rhaune Laslett and Michael de Freitas both had multi-ethnic ancestry encompassing pretty much every race and religion: Rhaune is described as half native-American Indian and half Russian; Michael as Afro-Caribbean-Scottish-Portuguese-Jewish and Muslim. They brought together the various local influences – of May dances, Victorian fairs on Wormwood Scrubs, Portobello busker parades, catholic processions, traditional English and Afro-Caribbean carnivals – in the first Notting Hill Carnival; but it wasn't widely known as such until the early 70s.
The 1966 Notting Hill Fayre and Pageant, or the London Free School Fair, was a weeklong series of events, following the traditional English carnival format, as more accurately portrayed in the Bedknobs and Broomsticks knees-up than by most Carnival historians. The pageant on Sunday September 18 featured a man dressed as Elizabeth I and children as Charles Dickens characters (pictured on Tavistock Road), 'musicals', and a Portobello parade consisting of the London Irish girl pipers, a West Indian New Orleans-style marching band, Ginger Johnson's Afro-Cuban band, and Russell Henderson's Trinidadian steelband from the Coleherne pub in Earl's Court, followed by a fire engine.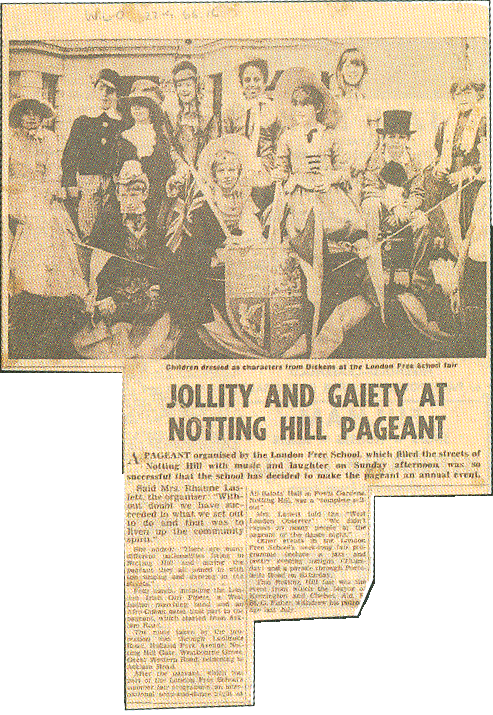 The West London Observer reported 'Jollity and Gaiety at the Notting Hill Pageant – A pageant organised by the London Free School, which filled the streets of Notting Hill with music and laughter on Sunday afternoon, was so successful that the school has decided to make the pageant an annual event.' Rhaune Laslett said: "Without doubt we have succeeded in what we set out to do and that was to liven up the community spirit. There are many different nationalities living in Notting Hill and during the pageant they all joined in with the singing and dancing in the streets. We didn't expect so many people at the pageant or the dance night."
'4 bands including the London Irish Girl Pipers, a West Indian marching band and an Afro-Cuban band took part in the pageant, which started from Acklam Road. The route taken by the procession was through Ladbroke Road (Grove?), Holland Park Avenue, Notting Hill Gate, Westbourne Grove, Great Western Road, returning to Acklam Road. After the pageant, which was part of the London Free School's summer fair programme, an international song and dance night at All Saints Hall in Powis Gardens, Notting Hill, was a complete sell out. Other events in the London Free School's week-long fair programme include a jazz and poetry evening tonight (Thursday) and a parade through Portobello Road on Sunday. The Notting Hill fair was the event from which the Mayor of Kensington and Chelsea, Alderman Fisher withdrew his patronage last July (over Michael X's involvement).'
The black underground press writer Courtney Tulloch wrote in the Notting Hill 'Interzone' International Times that the fair 'evolved out of Free School ideas and enthusiasm for the community. It was the biggest success – a week of festivity and celebration.' Darcus Howe has recalled the first one less fondly, with a few hundred people dancing in the rain to one steel band, led by Andre Shervington dressed in African costume; but he recalled it in 1964, possibly creating the myth.
Michael Horovitz's 1966 'Carnival' poem adds to the Beatles' local street cred with: 'Children – all ages chorusing – we all live in a yellow submarine – trumpeting tin bam goodtime stomp – a sun-smiling wide-open steelpan-chromatic neighbourhood party making love not war.' In the hippy origin theory, as propagated by Michael Horovitz in Days in the Life, Notting Hill Carnival began as a jazz-poetry extension of the 1965 Albert Hall beat poetry gig, and the headline act was Pink Floyd. He remembered saying: "There used to be a goose fair or something, spelt f-a-y-r-e, before the last war, and Hoppy (John Hopkins) said 'Hey, man, there used to be this fayre thing. Listen, man, you poets, we ought to get together and start live New Departures (Horovitz's poetry mag) in the local community'."
The Horovitz first Carnival recollection goes on, apparently merging various mid to late 60s happenings and demonstrations, to include Pink Floyd and Soft Machine, the first psychedelic lightshows by Mark Boyle and Joan Hills, and hippies in pantomime animal costumes leading local kids into the Powis Square gardens. In a similar vein, Neil Oram's Raps from the Warp play features a hippy guru character addressing his commune in the London Free School basement of 26 Powis Terrace. In other scenes a hippy talks about opening Colville Square Gardens, so that the kids can generate more positive cosmic energy, and a psychedelic pied piper leads street processions of ragged kids along Portobello.
Throughout the fayre week, All Saints church hall on Powis Gardens (on the site of the old peoples' home hall, consisting of a bit of the old hall, next to the church) hosted various 'social nights'; including 'international song and dance', jazz and folk, Charles Dickens amateur dramatics, and 'old tyme music hall.' The first Notting Hill Carnival also featured inter-pub darts. On September 30, following on from Dave Tomlin's proto-ambient house 'Fantasy workshop' during the fair, John Hopkins presented the first 'Sound/Light workshop' at All Saints hall by Pink Floyd.

1967 IT Parade and Summer of Love Fair
In 1967 John 'Hoppy' Hopkins presented 'the Death and Resurrection of IT' parade on Portobello. This hippy street theatre, as relic of tree worship in mod Europe, consisted of a coffin (containing the beatnik poet Harry Fainlight) carried on a 'rebirth journey' from the Cenotaph in Whitehall back to Notting Hill Gate on the Circle Line, and a procession through the market with bongo drum accompaniment. In the picture from the Some of IT book a group of fairly short-haired beatnik/hippy types in capes and Paisley shirts are led by a black bongo drummer. At the end of the demo, IT was symbolically resurrected in the human form of Harry Fainlight at the Tavistock Road junction, resulting in several arrests as Mick Farren took shelter in the Mountain Grill café at 275 Portobello Road (now Rehab).
As Pink Floyd released their debut album 'The Piper at the Gates of Dawn', featuring their All Saints hall set, the Notting Hill People's Association made the first attempt to forcibly open the gates of the Powis Square gardens; followed up by a direct-action picnic in the Colville Gardens square. During the summer of love, the second Rhaune Laslett 'Notting Hill Festival' was incorporated into the Notting Hill Summer Project community workshop. This was a more serious version of the London Free School, organised by the People's Association in All Saints hall – which became the People's Centre. The NHPA also produced the longest running local newsletter, the People's News. The summer of love project mostly consisted of research for George Clark's housing survey of the Colville and Golborne slum areas, which student volunteers paid to carry out.


6 1968 Interzone International Times Fair