Welcome to the 25th annual
free Portobello Film Festival
3 - 20 Sept 2020
.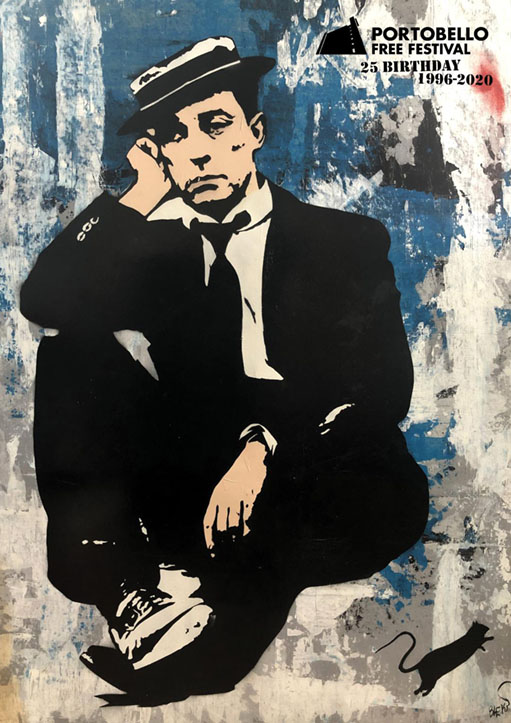 Buster Keaton by Blek Le Rat


2020 Golden Trellick Awards Shortlist
Award Ceremony
20 September 2020 – 6pm

Best Comedy
Daddy's Note (Gavin Irvine)
Autumn Never Dies (Chris Quick)
Burqua City (Fabrice Bracq)
Guy Proposes To His Girlfriend On A Mountain (Bernhard Wenger)
Cannonball (Sean Fredricks )
Seven Wishes (Dasha Charusha)
Lost Rabbit (Bertrand Lissoir)
Le Syndrome Archibald (Daniel Perez)
A wreck in Paradise (François Zaïdi)
The Witch-Hunters Are Coming (James Atkins)
Poltre (Álvaro Vicario)


Best Drama
The Boy Who Thought He Could Fly (Emma Pitt)
Forget Me Not (Nicholas Goulden)
Etude (Andrey Burmistrov)
RIP Audrey (Greg Hall)
The Little Giant (Lee Cogswell)
Massacre (Maïté Sonnet)
Desert (Frédéric Daenen & Colin Javaux)
Rien De Beau Ici (Gabrielle Vigneault-Gendron)
There Will Be Monsters (Carlota Pereda)
Day Release (Martin Winter)

Best Documentary
The Wornington Word (Natasha Langridge)
Wicca Reincarnate (Katya Kan)
Was Not Heard (Keith Allot)
Slow Burn (Miguel Sánchez García)
By The River (Dan Braga Ulvestad)
Outside The Oranges Are Blooming (Nevena Desivojević)






Best Animation
Danse Macabre (Molly Brown)
Cats Go Bananas (David Hutchison)
Dinosaurs The True Story (Paul Louis Aeberhardt)
Grief (Ben Brand)
Lionverse (Mok Chun Hei Hayden)
Ties (Dina Velikovkaya)

Best Art
Snow White (Thadeusz Tischbein)
Lost In Lockdown (Jenny Runacre)
Jenz In The Moment (Joanna Kiernan)
Switch (Desiree Faust)
Flow State (Sarah Jane Swan & Roger Simian)
Cut Out (Josephine James)
MicroGoosing (Sara Ferro, Chris Weil)


Best World Cinema
The Electric Chair (Joan Martín Giménez)
Crazy (María Salgado Gispert )
Orquesta Los Bengalas (David Valero Simón
From Matti With Love (Jarno Lindermark)
Nina (Hristo Simeonov)
Franka (Mitry Semenov-Aleynikov)
Once Upon a Time(Sofiia Nikishyna)
Any Given Car (David Pérez Sañudo
The Gift (Radik Kudoyarov)
Suffocation (Nastasya Marsakova)
Hey, Gray (Nikita Khozyainov)
Crew 3,14 (Denis Pavlov)

Best Film
To be selected from Shortlist





Portobello Film Festival 2020 takes place at The Muse 269 Portobello Road W11 1LR between 6pm and 10pm most evenings from 3 - 20 September.
This year the Festival will have an Eastern European feel to it, showcasing films from Russia, Ukraine, Belarus, and Lithuania, as well as the usual selection from Germany, Spain, and Belgium, and two nights of London/UK films. The Award Ceremony will be on Sunday 20 September at the Muse.
An exhibition of Festival artworks by the likes of Blek Le Rat, Dotmasters, Andrew Logan, Sickboy, Joe Rush, Lucy Sparrow and Pure Evil will be on display from 3 – 13 September.
We are proud of delivering this free film festival in the heart of UK counterculture for 25 years now. It's a pity the milestone has been tarnished by the Coronavirus outbreak but the team were keen, right from the start, to put on a living live festival if it was possible.
So due to Covid restrictions, attendance numbers will have to be limited, and 1hr slots booked in advance on eventbrite - details to follow. The Festival will still be free but social distancing seating and facemasks (supplied at venue) will be necessary. There will be a thermometer gun at the door. Surfaces will be cleaned/sanitised regularly and the ventilation/air con will be in operation.
Thank you for your cooperation in these strange times!
A Greatest Hits programme will be broadcast later online, along with a short season on London Live TV in October.
So, due to plague sorry, entry will be limited to advance booking only. These conditions apply to filmmakers as well as public. Free tickets for one hour slots at this year's Festival can be obtained here.
Normal service will be resumed as soon as possible.



6pm – 10 pm
Entry Free to All Events
Download full programme




THU 3 SEPT

THE MUSE
6-10 PM
Russian Films
full programme


SAT 5 SEPT

THE MUSE
6-10 PM
French Films
full programme

MON 7 SEPT

THE MUSE
6-10 PM
Documentary
full programme


WED 9 SEPT

THE MUSE
6-10 PM
UK And London Films
full programme


FRI 11 SEPT

THE MUSE
6-10 PM
Spanish Films
full programme


TUE 15 SEPT

THE MUSE
6-10 PM
Documentary
full programme


FRI 18 SEPT

THE MUSE
6-10 PM
Spanish Films
full programme


SUN 20 SEPT

THE MUSE
6-10 PM
Awards Ceremony
full programme




VENUE

The Muse
269 Portobello Road, W11 1LR





FRI 4 SEPT

THE MUSE
6-10 PM
Belgium Films
full programme


SUN 6 SEPT

THE MUSE
6-10 PM
German Films
full programme

TUE 8 SEPT

THE MUSE
6-10 PM
USA/Canadian Films
full programme


THU 10 SEPT

THE MUSE
6-10 PM
Russian Films
full programme


SAT 12 SEPT

THE MUSE
6-10 PM
London/UK Films
full programme


WED 16 SEPT

THE MUSE
6-10 PM
Comedy Night
full programme


SAT 19 SEPT

THE MUSE
6-10 PM
International Films
full programme