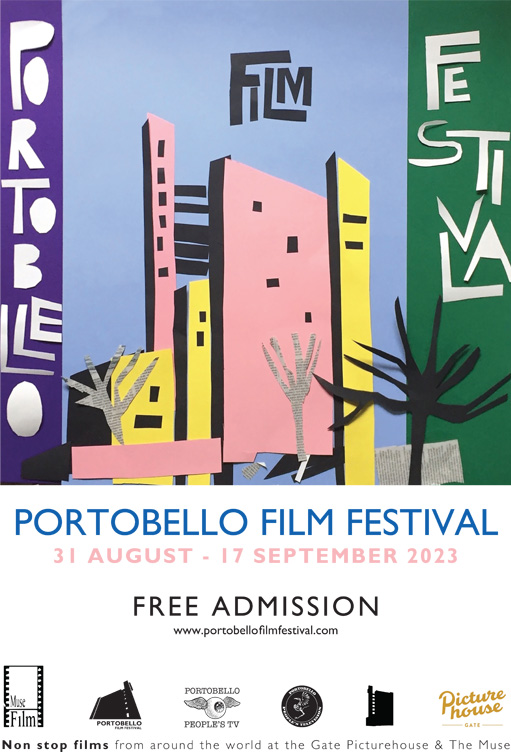 Welcome to the 28th Portobello Film & Art Festival which runs every day from 31 August - 17 September. Entry to all events is free.
The majority of the Festival takes place from 1 - 16 September at The Muse, 269 Portobello Road with a changing programme of UK, West London, and International premieres and plus rare archive films on the likes of Lucian Freud, David Hockney and Damian Hirst.
The Festival opens on 31 August at The Gate Picturehouse, Notting Hill Gate, with Terry Gilliam in person introducing Brazil as a tribute to his friend the great actor Ian Holm. The Festival closes on 17 September at The Gate with the Golden Trellick awards ceremony for some of our favourite films. That evening will also feature A Brief History Of Portobello Film Festival movie with early clips from Sarah Gavron, David Bowie, Shane Meadows, Sinead O'Connor, Andrew Logan, John Malkovich, Anita Pallenberg, and Shane McGowran. Tickets for the Gate Picturehouse can be booked free on their website.
Sophie De Stempel, an assistant to Freud, shows her paintings at The Muse for the duration of the festival alongside collages by Members & Fad Gadget drummer Nick Cash. Sophie has also designed individual, handcrafted artworks for this year's Golden Trellick Awards Ceremony.

Portobello Festival is proud of our 28 year history as a cutting edge free entry arts festival complimenting Carnival and the flea market as UK's top countercultural hub.




Entry Free to All Events
Some Covid precautions in place

Download full program (PDF)





THU 31 AUG

THE GATE CINEMA
8 PM
Brazil
at the Gate Cinema
full programme


FRI 1 SEPT

THE MUSE
6-10.30 PM


Austrian & German Films


full programme


SAT 2 SEPT

THE MUSE
6-10.30 PM
Local London Films &
Films from the UK
full programme


SUN 3 SEPT

THE MUSE
6-10.30 PM


Films From the USA


full programme


MON 4 SEPT

THE MUSE
6-10.30 PM


Animation


full programme


TUE 5 SEPT

THE MUSE
6-10.30 PM


French & Belgium Films


full programme


WED 6 SEPT

THE MUSE
6-10.30 PM
Local London Films &
Films from the UK
full programme


THU 7 SEPT

THE MUSE
6-10.30 PM
Private View/Launch of Art Expo
(no films)
full programme


FRI 8 SEPT

THE MUSE
6-10.30 PM


Art Night


full programme




VENUES

The Gate Picturehouse
87 Notting Hill Gate
W11 3JZ

The Muse
269 Portobello Road
W11 1LR


SAT 9 SEPT

THE MUSE
6-10.30 PM
Local London Films &
Films from the UK
full programme


SUN 10 SEPT

THE MUSE
6-10.30 PM
Spanish Films
full programme


MON 11 SEPT

THE MUSE
6-10.30 PM
Italian &
Iranian Films
full programme


TUE 12 SEPT

THE MUSE
6-10.30 PM
Ukrainian & Canadian Films
full programme


WED 13 SEPT

THE MUSE
6-10.30 PM
Horror night
full programme


THU 14 SEPT

THE MUSE
6-10.30 PM
Portobello Peoples TV
full programme


FRI 15 SEPT

THE MUSE
6-10.30 PM
Local London Films &
Films from the UK
full programme


SAT 16 SEPT

THE MUSE
6-10.30 PM
International Films
full programme



SUN 17 SEPT

THE GATE CINEMA
8-11 PM
Award Ceremony
full programme