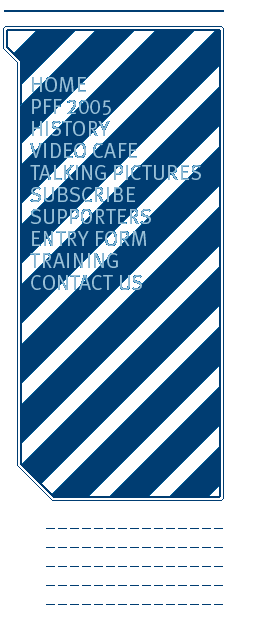 VIDEOCAFÉ NO. 93


24 March 2004 (6pm - 11pm)
The Paradise, 19 Kilburn Lane, London W10



Sci Fi & Horror Night


6.00

Meat
15 mins Chris Croucher comedy "Meat" is an off-the-wall black comedy which is set in the not so distant future where the consumption of meat has been made illegal.

Globs II They Come Back (In Italian no subtitles)
10 mins Paris Texas drama A man, a weapon...could it stop Globs? Nobody knows.

Down To The Wire
5 mins Jarrod Walker drama A film about the brutal tactics employed by a medical company in the near future.

Macular Degeneration
Mathias Scolozzi Triggered by his brother's death Satan is transported to the factory of life and death



7:00

Nuclear Zombie Overload
Comic parody of the horror genre, and a homage to Zombie movies

Necronomicon
15 mins David Thomas drama A writer finds the famed "Book of the Dead"- A mystical book with magic spells but the last page is missing...he seeks out to find it.

If You Go Down To The Woods
An ordinary Sunday turns into a nightmare as Colin searches for his missing wife.



8:00

Arachnid Man and his own fears for spiders.
2 min

For What We Are About To Receive.
Two alien creatures prepare a dinner. 4'20 mins

Shadows Of The Mind
10 mins Mark Jones drama A dark nightmarish tale about being held captive within one's own mind and the inner turmoil that results.

Hubris
15 mins Natasha Tilley drama Oscar and Louis, two eccentric bored young aristocratic lovers hold a drug, sex-fuelled party at their mansion.

Swindles & Slim
20 mins Suzy Evans drama A brutal, haunting portrayal of two seventy-year old ex-gangsters who regain their youth, only to lose it again, and each other, when bequeathed a stolen painting which is cursed

The Trophy
Nicholas Penrake 5 mins A cannibalistic serial killer gets his comeuppance for having taken a trophy from his latest female victim.



9:00

Bird Of Prey
Tim Conrad 15 mins 15 An old man has a 'close' relationship with his pet eagle. When it is lost in a burglary he takes his revenge in a bizarre and horrific way.

The Routine
Jon Wright. 13 mins A man is violently attacked in his home.




9:30

Driven
90 mins Simon Cox drama After the brutal death of his brother, an author is driven to finish his book and unleash unknown powers.







VIDEOCAFÉ NO. 94


Wednesday 31 March 2004 (6pm - 11pm)
The Paradise, 19 Kilburn Lane, London W10



Directors Cut
A selection of favourite films from the past 8 years of the Portobello Film Festival


Majesty Of Haunt
by Sean Garland. 15 minutes.
A stunningly moving visual poem about abortion and Ireland.

The Tail
by Andy Shelley. 5 minutes.
In a world where everyone has a tail, one man loses his and struggles for acceptance and self-esteem.

The Ballard of Clara Two-Step
by Charlotte Collins 10 minutes.
A womans life spirals into a convoluted psychological nightmare of her own creation

Donde Esta Dios? (Where Is God?)
by Oliver Ledwith. 10 minutes.
Two young boys in Spain can't help getting in trouble. The local priest decides to teach them a lesson.

Dick & Maria
by Mark Limburg 10 minutes
Dick has been lying in a coma for 19 years. He finds a unique way to communicate with his new nurse.

Bikini Bandits
by Stephen Grasse 10 minutes
Bad taste and bikini babes from USA. Music by Dee Dee Ramone

Hard Liquor
by Armin Faul 5 minutes.
The bro finally meets his adored green haired girl in the little ghost town.

1 Giant Leap
Duncan Bridgeman and Jamie Catto(25 mins)
Special Portobello Film Festival cut.

Accelerator
by Pam Hogg. 5 minutes.
Fashion show film with music, Primal Scream and Anita Pallenberg.

Heck Of A Storm
by Duggie Fields. 5 minutes.
Digital images, the spoken word and music.

Fill Her Up
by Mark Denton 2 minutes.
'Fill Her Up' is about a man who really, really likes his car.

Riders Of The Storm
by John Wheeler
Can this many perfectly nice people really be so wrong. Anti War demo.

Venice Biennale
Angus Wyatt 10 mins
People who go to art opening nights

Syn
by Chi Yu. 10 minutes.
After the Apocalypse, God recreates Adam. He has robbed him of sight preventing him from knowing all good and evil. Eden remains a harsh environment of concrete. As Eve wakes, instinct brings them together.

Gimpos Enema
by Gimpo (K Foundation)
A performance arists gives himself a quick setting concrete enema.

Flipside
by Richard van den Bergh. 12 minutes.
Moral statement about misconception and prejudice within the underground party culture (it says here).

Incident 44
by Joe Rosen 5 minutes.
Grafitti based urban realism and humour

Lady Behave
by John Malkovich. 20 minutes.

Hideous Man
by John Malkovich 15 minutes.
Anton Artaud inspired dramas and fashion showcase for local designer Bella Freud.

Topper
by Ben Owen. 11 minutes.
Exclusive interview with Nick Headon, former drummer of The Clash.

Love For £15 dollars
by Clive Saunders 25 minutes
Man falls in love with a mannequin. From the short story by Charles Bukowski.

Penetration
by Daw Smith. 4 minutes.
A scientific investigation into man's urge to penetrate.

Bondi Hophead Zombie Freakout
by Kent Boswell. 5 minutes.
Two young men accept some blue marijuana totally unaware of the side affects that await them & in the Courtyard "Watch The K Foundation Burn A Million Quid" Was it a crime? Was it a burnt offering? Was it madness? Was it an investment? Was it rock and roll? Was it an obscenity? Was it art? Was it a political statement? Was it bollocks? Bill Drummond and Jimmy Cauty from KLF burn a million quid on Staffa.