VIDEOCAFÉ NO. 111


Wednesday 14 February 2007
Inn On The Green
3 Thorpe Close, London W10
(nearest tube Ladbroke Grove)
6pm – 11pm
Admission Free



2 Screens Valentines Day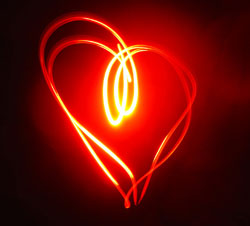 Main Screen

O-I-L The Movie
Riki 20 minutes U
For the last three years Venus has been holding free Valentine parties in Picadilly Circus. Under the title 'Reclaim Love', she reminds us that oil is not the most important commodity on the planet.

Poulet – Poulet
Damien Chemin 10 minutes U
Choosing from a menu can be harder than you think. A Chinese puzzle, French style.

Pillowtalk
Jordan Canning 10 minutes 18
When two halves of a young couple can't get to sleep one night, a petty argument starts over nothing.

Small Talk
Orleas Pergtzis 17 minutes U
Small Talk is a short black comedy the highlights the difficulty of finding happiness & companionship. Despite the sheer size & diversity of the city, starting a conversation with someone is easier said than done

Scene #9: "He shoots..."
Tim Prescott 15 minutes 15
A pivotal scene taken from a full-length feature about Darren character and his compulsion to fulfill every imaginable sexual adventure.

How To Meet Woman
Mohammad Homouda 10 minutes 15
Carl is a London Estate Agent whose favourite pastime is "shagging women like donkeys" until, that is, Carl meets his match.

The Unusual Inventions Of Henry Cavendish
17 minutes U
A young inventor, in Victorian times, falls in love with a beautiful girl who passes by in a carriage.

Coldblooded Deathmatch Love
Shunsuke Yamamoto 10 minutes 15
Kuroki, a narcissist bastard who is only interested in himself, is being stalked by a girl who is madly in love with him.

The Farmers Daughter
Robbie Brewster 5 minutes15
The tale of Harris, a young lad who is seduced by Meinur, the farmer's daughter.

Anastasia
Dimitris Apostolou 13 minutes 15
Christos doesn't know the big secret Anastasia hides.

Free Spirited Finds
Nic Novega, Nic Pretiranga, Sonja Prosenc 23 minutes 15
The protagonist has to transport a body of a young woman. On the way from the hospital to her home the corpse comes to life.

La Lupe I En Bruno
Marc Riba & Anna Solanas 5 minutes 15
A fascinating passion story, of impossible love.

Frozen Souls
Juana Macias 15 minutes 12A
Three men talking to three women we never see, three men arguing, three men claiming no one understands them.

A Dog's Dinner
Jeff Wilston 15 minutes 18
After a degrading sex escapade with an intern from the office, Henry is about to have a Sunday afternoon he won't soon forget.

Twotimes Twotime
Eva Adam & San Frehse 20 minutes 15
On Mallorca on holiday Bernd pronounces free sex-for himself- of course.

King Of The Rodeo
Gome Ravid 10 minutes U
Short meeting between 2 ex-lovers after they haven't met for a long time.

Losing Sarah
Robert Tetlow 7 minutes 12
A bereaved couple buy a clone of their deceased daughter but find they don't have the money to keep up the instalment payments. Sci-fi Drama

Jellybaby
10 minutes 12A
Jack and Jill are not so thrilled that their young baby cries incessantly, not just when they are trying to relax at home, but most embarrassingly when they are in public places

With You
Thomas G Carter 10 minutes 12
An action-adventure family short in which an old man goes to rescue his wife from a nursing home.

Paper Anniversary
Joern Utkilen 10 minutes 15
A woman wants to make a baby with her husband. In the end she gets her way.

The Rope Philippe Andre 10 minutes 15
A young woman awakes in a strange town that she does not recognise. She is tied with rope. Suddenly there is movement. The man she is tied to wakes, rises and drags her away.

Serious Fitness
Alexander Maryagin 25 minutes 15
14 years old Masha wishes to live the beautiful and dazzling life she sees in an expensive fitness center. She is ready to do anything to make her dream come true, but the shining new world suddenly turns its dirty side on her.

The Look of Love
15 minutes 18
Video Art from Sweden. The things we do for Love.




Second Screen.



Bring Your Own Films All Night.






Back to Videocafe
VIDEOCAFÉ NO. 112


Wednesday 14 March 2007
Inn On The Green
3 Thorpe Close, London W10
(nearest tube Ladbroke Grove)
6pm – 11pm
Admission Free




ART & MOLLY PARKIN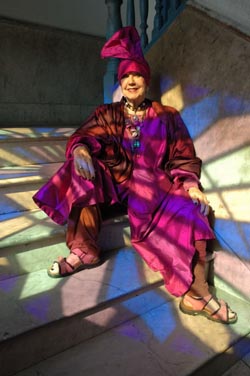 Photo: Tommy Candler

6:00

Ethiopian Light
Meudeeu Diriba 10 minutes 12A
One is a Christian and one is a Muslim. Documentary London, England
What Colour Are You?
Suzanne Smith 15 minutes 12A
A woman sets out to answer this question. Documentary London, England

Girls Night Out (In German with Engh.Sub) Sara Poss 13 minutes 15
3 German girlfriends are having a girls night out. Documentary London, England

Superhero Music
Dotti Colvin & John Shearlock 5 minutes 12
Some hammer wielding skeletons and an ugly rock star. Animation London, England

Winter In America
Heri Mkocha 5 minutes U
A political song by the poet musician Gil Scott Heron. Music Videos London, England

My Friend Marjorie
Louise Wide 5 minutes U
Marjorie is a retired Vaudevillan actress. Animation London, England

Heck Of A Storm
Douggie Fields 7 minutes
Digital images, the spoken word and music.

7:00

The Wall
Punchdrunk 10 minutes 15
Roger Waters' ill-fated one off performance. Comedy London, England

Rock N Roll Suicide
Nathan Evans 3 minutes U
On 3rd July 1973, David Bowie killed off Ziggy Starduck.Music Videos London, England

Helena
Toor Mian 10 minutes 15
The last known whereabouts of Helena's husband. Drama London, England

While You Sleep
Canek Kelly 10 minutes 15
The neighboug wake -up the unconscious mind of this building in Mexico.
Drama London, England

Blockbusted
Paddy Bird 10 minutes 15
All Ken wants to do is watch a film with lots of explosions…Comedy London, England

Illegal
Robert Cambrinus 13 minutes 15
Economic migrant strikes up a friendship with a Chechen refugee.Drama London, England

Soul Die
Mark Faduola 3 minutes 15
Soul Die tackles the issue of mental health using a poem.Drama London, England


MOLLY PARKIN

8:00

Talk, poems and an introduction to the film Moll by Molly Parkin.

8:30

Moll
Malcolm Hart 50 minutes 18
A portrait of Molly Parkin. An honest testament of her life. Documentary London, England

9:20

Catharsis
Orfeas Peretzis 13 minutes 15
The emotional & physical journey of a soldier. Sc-Fi Drama London, England

9:30

DecSurveillance
Caroline Bridges & Dom Breadmore 10 minutes 12A
Security CCTV witness the after-hours events of an office block and its locale.
Dance London, England

Footwork
Susie Glynn 3 minutes U
A day in the life of a dancer's hardworking feet. Dance London, England

Crimes
Deborah Tiso 7 minutes 15
Homage to Sergio and Enuio. Dance London, England
Timekilling
Lela Budde 7 minutes U
A nurse has been inserted into an assemblage of various shoot outs. Art London, England

Even If She Had Been A Criminal
JG. Periot 10 minutes 15
France, summer 1999. Documentary France

Synaesthesia
Matthew Kemp 10 minutes U
This neural disorder which causes sensory 'overlap'. Documentary London, England

Un Azard Habanero - Voices from an Island
Chiara Bellini 50 minutes 12
The wishes and the experience of an island which is contradictory but growing and constantly on the move. Documentary Italy