It's been a while. I've missed you. No really !...And I've had to go grovelling to Onetel to get my email address re-activated. Computer says no to talking telly. Computer says it's already assigned. Yes It's assigned to me IDIOT. They always do that. So now the new email address is talkintelly@onetel.com without the 'g'. Yeah? Do you see what I did there? Computer thinks it can get one over on me HAH !.
I await the usual floods of telly related correspondence.

Things have been looking up. On the plus side we now have Freeview which I would recommend to any one. On the minus side we now live in a dip - Notting Dip to be precise - at the mercy of high rises and pirate radio stations so reception is a bit hit and miss with either the commercial channels or the BBC's taking it in turns to drop out completely.

So despite the buttock clenching lottery that is telly watching these days I did manage to catch the latest Giles Coren offering MOVIE LOUNGE 5, WED 17:15. I like Coren but I must confess to being a little bit disappointed with this lacklustre offering. The guests were z list they did too much of the talking and there was too little of the Coren slant on things so what was the point ? it could have been anyone presenting. Here's to next week. Onwards and upwards.

Totally sh*t out on the NME AWARDS E4 this week. Seriously, if anyone's got a recording of it they want to lend us I'd be very happy to watch it. I couldn't care less about the Arctic Chiefs and whoever else It's Russell Brand I want to see. Totally brilliant. And why isn't he on telly more with his own show. What's the matter with these people. And the bit where Bob Geldof calls him a c**t and his response has got to become legendary.

Above all (or maybe except for Eastenders) the one thing sustaining me has got to be the csi franchise CSI, CSI NY and CSI MIAMI All showing at the moment, on 5, in various states of new series' and repeats. What's to say that hasn't been said? There all the same but different and totally worth an hour of anybody's life.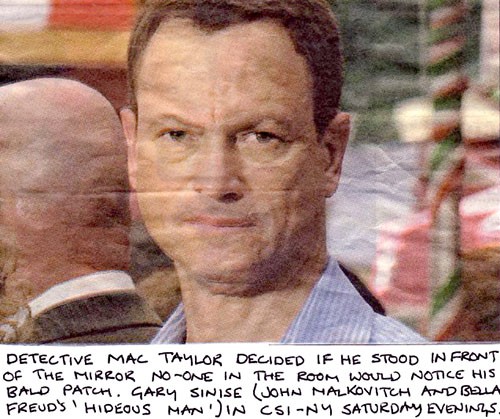 Hey! BODIES BBC3 did you watch that ? Jed Mercurio's dark comedy/drama about a gynaecology ward. Absolute class with Keith Allen and Max Beesley. It does for hospitals what the West's did for family values. Indeed, none of your cuddly, caring Dr Greens there. Head for the hills girls. Nevertheless, lets hope it gets a third series.

MEDIUM BBC1 MON 23: 35. Produced by Kelsey Grammar. Starring Patricia Arquette it's one of those lightweight dramas the Americans do better than anyone. She's a medium who helps the police solve cases, the sub plot being her job is often to the detriment of her young, growing family and long suffering husband. Nonsensically late time slot (when Bodies was on at 21:00) but absorbing in an undemanding way and expertly de-cheesed. Right I'm off to watch Eastenders omnibus and then Corrie omnibus. It's what Sundays are for isn't it ? apart from shopping ?