Portobello Film Festival 2002 Report
(1st – 19th August)


(see some photos)


(see programme overview)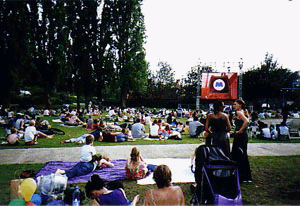 Unique Platform For New Directors

We show every film submitted thereby providing a non judgemental platform for all film-makers and presenting to the public a large scale picture of contemporary moving image culture. We believe in giving a platform to all as a way of encouraging film-making in UK (especially now more easy with Digital technology) and we also believe early work is often more challenging and inspired than the mainstream.

Entry to all events is FREE. This way we ensure access is available to everyone.

Films are submitted via our website www.portobellofilmfestival.com, so there is also an International element. Plus this year we proactively pursued partnerships with Italian, Portuguese, Irish, German and Czech festivals and organisations, bringing the best of European independent Cinema to the UK.


Bringing Film To The Streets

We present film in unusual locations, more in the style of a Continental fiesta or festivale or a rock concert, rather than normal film environments.

We screened in Emslie Horniman's Pleasance Park, Kensal Road W 10, for three days (16th – 18th August) from 2pm to 10pm on a Megascreen and in a Circus tent. Particular favourites alongside a family friendly UK and International selection were The Mummy Returns, Down From The Mountain and Monsters Inc. Fun for all the family on a bright sunny day. Several thousands of happy Festival goers passed through the Park over the weekend.

Newly opened Westbourne Studios, Acklam Road W10, architecturally spectacular with a giant atrium boasting the Westway itself as roof, played host for the first two weekends of the Festival.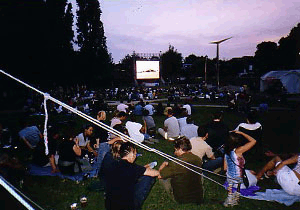 International Weekend

From 2nd – 4th August we presented Italian films in association with Rimini based Riccione Teatro and ETI Progretto Videoteca Teatrale, Portuguese movies courtesy of Sub Filmes Lisbon and Irish shorts from Network Ireland in the luxurious, usually full, 80 seater Cinema. We also offered a Fela Kuti day in the atrium with DJs, Fela Kuti films, drummers, stalls and other performers.

On Saturday 3 August we screened Performance, introduced by a very glamorous and witty Anita Pallenburg at The Tabernacle, Powis Square W11, just over the road from where the film is set. We swiftly hit capacity (250) and the doors had to be closed but latecomers were compensated by DJ sets from Gazs Rockin Blues and Pam Hogg (playing to Watch The K Foundation Burn A Million Quid).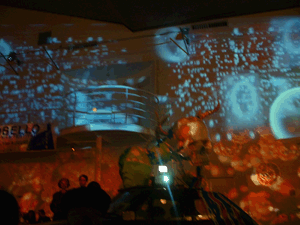 Multimedia Weekend

The second weekend at Westbourne Studios (9th-11th August) showcased a Multimedia Extravaganza featuring the latest in cutting edge Video Art including a standing room only evening from BowieArt in the Cinema, and in the courtyard car sculptures and robots from the Mutoid Waste Company, and visuals covering the walls and ceiling like a moving psychedelic Sistine Chapel (by 8 slide and 10 video projectors) from Ben Mason and Red Dog.

Both weekends at Westbourne also featured Premieres and Talks. Premieres included the astonishing Sister Smile from Roger Deutsch, the hilarious Dogme mockumentary Strass, Temptations from the former Yugoslavia plus the excellent Seekers and Love Is Not Enough from UK. The very popular educational talks followed by Q & As were on topics as diverse as Censorship, Pitching, Music Video Commissioning, Editing and Baaba Maal from the likes of Franc Roddam, John Hassay, Nick Barclay and Adrian Boot-all directing the thrust of their talks toward encouraging first time directors and independent film theory and practise.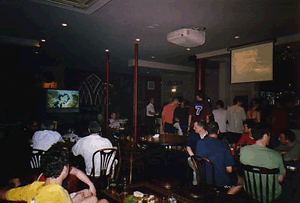 Video Cafe

Throughout the week day evenings of the Festival, due to the large number of films submitted this year (over 500) we ran two Video Cafes (at Mau Mau, Portobello Road and Station Tavern, Bramley Road) every night. Highlights here included films featuring His Holiness The Dalai Lama from Meridian Buddhist Trust, the first ever feature film in Cornish-Bitter Sweet by Antal Kovacs, comedy shorts from Kim Noble, work from the North Kensington Video Drama Project, Kodak Short Films, new directors like Sarah Miles and Rupert Wyatt, with a special mention going to Robert Hertner for Runners 7-Robert's seventh consecutive contribution to the Portobello Film Festival. These are films that would get top billing at other film festivals but in keeping with the democratic nature of the Portobello we are more than happy to mix them up with work from first time directors.

The Video Café is always one of the most enjoyable strands of the Portobello Film Festival and is always a great social event. In addition directors may bring their films along on the night and we will screen them.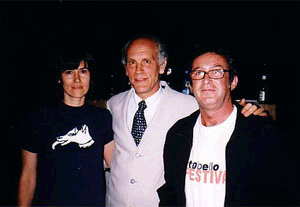 Festival Director Jonathan Barnett with John Malkovich and Bella Freud at secret Hideous Man premiere at Westbourne Studios


Social Event

Indeed the whole Festival is a unique social event on the Film Festival calendar for film makers and fans alike. This year we had no fewer than four special parties: a launch party at The Cobden, the Premiere of Bella Freud and John Malkovich's wonderful and deliriant Hideous Man with the great man present on Thursday 1 August at Westbourne Studios (featured in Heat magazine), the Performance show with DJs at The Tabernacle and the Awards Ceremony at The Electric. The Portobello Film Festival recognises the importance of parties with free drinks (courtesy J&B Whisky) as a fun way of networking and presenting new work to a sympathetic and relaxed audience.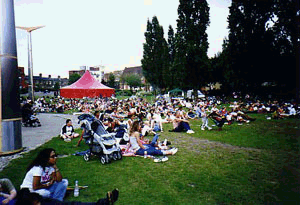 Party In The Park

The highlight of the Festival, as in the past two years, was the closing weekend (16th-18th August) in Emslie Hornimans Park, Kensal Road, a feast for the local community and films buffs alike in this very deprived part of West London, running from 2pm to 10pm each day with a Cinema Circus Tent -featuring local films, German films from Open Eyes Festival Marburg, Festival founder Barney Platts-Mills' seminal Bronco Bullfrog, Manga cult favourites, and a selection of Classic Shorts including work from Michael Nyman, Simon Cox and Miranda Richardson-, a bar (Pimms was a particular favourite over the three sweltering days), Caribbean Food from Yum Yum, and the Megascreen for al fresco all day viewing which as well as blockbusters also presented the JVC Sharpshooters Shortlist, Skateboarding movies, all the Gorrilaz animations, Damon Albarn's Mali Music, a documentary on The Pogues, Nitin Sawney's Prophesy and the Orange/FilmFour Short Film Award Winners.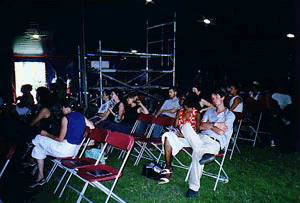 JVC Digital Camera Awards

The Festival concluded with the JVC Digital Camera Award Ceremony at The Electric Cinema. Winners were Richard Heald and James Kibbey (In Absentia) for Best Film, Bayram Fazli (The Well) Best Director, John Wheeler (The Drought) Best Cinematography and Sarita Siegal (The Beloved) Best Screenplay. Top of the range JVC Digital/Computer Compatible Cameras were presented by the gracious Lucy Jakes from JVC to the grateful winners, and after seven years we finally saw Portobello Film Festival going up in lights over the door to this wonderful and historic local venue.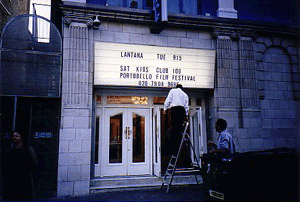 Portobello Film Festival finally goes up over Electric Cinema for JVC Digital Camera Awards Ceremony 2002


The shortlist nominations were:
Hideous Man (John Malkovich)
Morphologies (Dir: Franz Martig)
In Absentia (Dir: James Kibbey and Richard Heald)
The Reincarnation of Khensur Rinpoche (Dir: The Meridian Trust)
Hubris (Dir: Natasha Tilley)
The Well (Dir: Bayram Fazli)
The Awakening of Mattsi & Katochek (Dir: KateSobol & M.Schubert)
Sister Smile (Dir: Roger Deutsch)
Antigone (Dir: Caroline Lisowicz)
The Milliner (Dir Andrew Kavanagh)
The Shant Club (Dir: Paolo Sedazzari)
Love is not Enough (Dir: Mark Norfolk)
The Stream (Dir: John Wheeler and Irina Fisher)
Water of Venus (Dir: Holly Robertson)
Milk Cycle Neil Coxhill
The King of India (Dir: Alex Morgan and Glen Warrillow)
Melting Pot (Dir: Jerry Fox)
If I should fall from Grace (Dir: Sarah Share)
Meanwhile…Back at the park (Dir: Third Planet International)
The Beloved (Dir: Sarita Siegel)
Task 7 (Dir: Richard Mann)
Island On The Roof (Dir: Artemio Benki)
Perestroyka (Alexander Kiseliow)
Out of the Game (Dir: Matt Win)
Going Home (Dir: Stephen Pick)
Law of Motion (Dir: Giles Borg)
Perceptions of a Myth (Dir: Caleb Botton)
October (Dir: Graca Castaheira)
P&M (Dir: Hasko Sadrina)
A Tenative Situation at Rugby Road (Dir: Adam Davies)
Figure Toi A'envers (Augustina Covian)
Terzo E Mondo (Dir: Daniele Pignatelli)
The Apparatchik's Wife (Dir: Alasdair Ogilvie)
Dead Man's Dream (Dir: Abner J Pastoll and Kamma Pastoll)
Rosie (Dir: Lauren Puskin)
Nebulous Dawn (Dir: Omar Hassan)
Gone (Dir: Sheena Macrae).


Sponsors

Many many thanks to our funders, sponsors and supporters: London Arts, London Film And Video Development Agency, Digital Outdoor, JVC, Third Planet, Time Out, Simons Muirhead and Burton, Fighting Unemployment in North Kensington, Royal Borough of Kensington and Chelsea, XFM, J&B Whisky, Westbourne Studios, The Electric House, Cobden Club, ACAVA, BowieArt, Esigns, First4Print, Mau Mau bar, Station Tavern and Palm Pictures.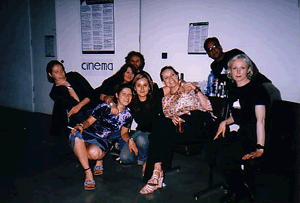 PFF Crew 2002

Director-Jonathan Barnett
Programmer-Raymond Myndiuk
Co-Ordination-Natasha Fownes
IT Management-Michael Vassal
Special Projects-Rebecca Gaucher
Sound-Dave Pitt
Photography-Astrid Smith
Troubleshooting-Alison McCoubrey
Foreign Relations-Sara Zapparoli & Joao Sarmento
Website-Thomas Szabo
Design-Marc Woodhouse, Nick Alexander and Tim Walker @ Third Planet
Security-Michael Kelsick
Plus
Irene Horton
Paola Brunetti
Mounira Gurmit
Martyn Cooper
Michael Grodner
Rajeev Vinaik
Julian Chapman
Krystyna Jezewska
Khadija Hud
Florence Perik
Gennie Rose
Helen Didsbury

Programme subject to change