The 12th Portobello Film Festival
1 – 21 August 2007


programme



The Speed Of Light




We screened over 750 films this year, around 364 from London, 135 from other parts of UK, and the rest from all over the world: Nigeria, Iran, USA, France, Spain, Ireland, Italy, Australia, Israel, Palestine, India, Sri Lanka, Scandinavia, New Zealand, Columbia, Canada, China, Austria, Belgium, Germany, Brazil, Portugal and Russia.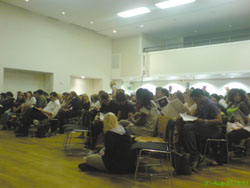 The biggest thrill in a high profile event packed festival was seeing full houses for non celebrity, non special events, like documentary nights, animation sessions, horror and extreme cinema, London filmmakers days. That's really why we do the Festival. These guys are making some great movies and for some mad reason there's nowhere else to see them. Most of the films are better than mainstream film and TV.

Among the bigger films UK premiered were Woody Allen's Scoop – great seeing Woody being funny again, Rahul Dholokia' s controversial Hindu/Muslim clash Parzania, and Barney Platts-Mills' Moroccan romantic comedy Looking For Tomorrow which kicked the festival off to an overflowing crowd at Westbourne Grove Church.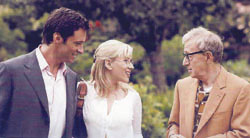 Particularly popular was Johnny Oddball's 24 Hour Film Challenge...our second biggest audience ever after Chris Cunningham in 2005. We loved the Star Wars stormtrooper security guard (against enraged losers) and the kindly way John helped some of the filmmakers finish off their films. Also standing room only were Julien Temple's Joe Strummer bio The Future Is Unwritten – reminding us of our punk rock roots, Black Eye's hilarious urban satire comedy shorts, John Maybury and Molly Parkin's Boozing With Bacon reminiscence plus screening of Love Is The Devil – John's Bacon biopic with Daniel Craig and Derek Jacobi, Filmmakers Against The War Showcase with Michael Franti's moving I Know I'm Not Alone, and the music movies on the last Saturday featuring The Godfather Of Disco and Caroline Catz's Jesse Hector doc A Message To The World.


Masterclasses In Front Line Cinema




Nicky Kentish Barnes – Scoop's producer – and Steve Mallet – Julien Temple's producer - gave fascinating insights into producing independent films at the top of the industry. Apparently distributors are the main financiers of films and will rarely touch anything original or risky. Woody Allen is one of the very few independent US or UK filmmakers who still has complete control over his work.

Greg Hall, producer of The Plague, recently aired on BBC 2 as part of their Brit cinema season, gave a masterclass on no budget filmmaking. Just pick up your camera and start filming. At last an up and coming filmmaker with integrity who started out at the Portobello Film Festival.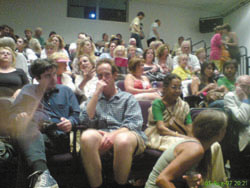 The film collective, supported by Matthieu Kassovitz and Vincent Cassel from La Haine, Koutrajme from Paris banlieu showed their angry and eloquent movie 365 Days In Clichy Monfermeil about the 2005 riots and talked about how the media is reluctant to confront the truth, especially with an election approaching, how they were tear gassed, beaten, imprisoned and had their camera broken during filming.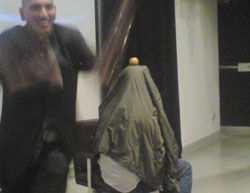 The enigmatic magician Aladin gave a mad mash up of magic, movie, art, fashion, theatre with Tunde Jegede, Marcus Tomlinson, Ishmail from Rice N Peas, and others called The World's Greatest Magicians in keeping with our 2007 Magic theme.

Paul Kieve from The Magic Circle gave a lecture on magic in film from the Lumiere Brothers to Harry Potter (for which he created some of the tricks).

The lovely Dawn Westlake came over from the USA and discussed the indie scene in America.

Martin Robertson from Canada presented two nights of his International Environmental Film Festival, Ideas In Motion, including a follow up on the story of the island that is literally sinking from global warming in the South Seas.

4Docs (purveyors of those wonderful short docs after the Channel 4 News) hosted a lively debate on the future of short films featuring representatives of Shooting People, BBC and Halloween.

Phil Ilson from Halloween (soon to renamed London Short Film Festival) presented their greatest hits as did Soho Rushes Shorts…a week after their Award Ceremony.


The State Of The Art




After previous covers from Jamie "Gorillaz" Hewlett and Ralph "Fear And Loathing" Steadman, this years programme cover was designed by ex-OZ Magazine designer Richard Adams.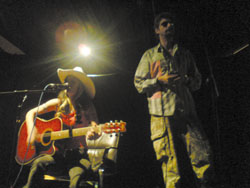 The courtyard outside the cinema at Westbourne Studios was graced with specially commissioned work from Pictures On Walls and Banksy cohorts: Inkie, Eines, Snug, Sickboy and Zeus. This was where graffiti finally went mainstream/fine art. Also featured was Visual Magic from Nick Reynolds, who also did a great acoustic set with Zoe from Alabama 3, and Mark Jackson - local leading light and PFF t-shirt designer.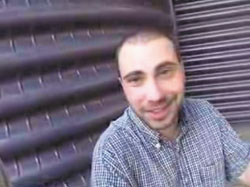 On the video art tip we had some wonderful work submitted this year including a rather gruesome film from Italy about body piercing as an art form, and Kevin Whitney's fantastic 2 screen Psychedelia from the early 70s featuring Syd Barret and attended by the Chelsea Arts Club posse including Dougie Fields and Andrew Logan.

We premiered ITN's new score for The Cabinet Of Dr Caligari in it's full majesty with the wonderful Westbourne Studios 360 degree sound system.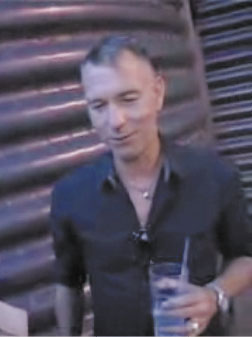 Rose Cupitt from Film London gave a talk on their Artists Moving Image Network initiative and showed some films featuring Ian Sinclair.

Photography was heavily promoted at the Festival with a pronounced local slant featuring Rough Trade's Shoot Portobello Rock And Roll landmarks expo at Westbourne Grove Church and Ray Roughler's Memories Of The Warwick Castle at the new Craze Gallery on Portobello Road with portraits of all the usual suspects: Joe Strummer, Mick Jones, Will Self, Andrea Oliver, Sean Oliver, Keith and Kevin Allen, Shane McGowran, Jock Scott. Roughler also presented an evening of film, music and karaoke at The Inn On The Green with Roger Pomphrey's Who The F*** Is Pete Docherty.

Molly Parkin had a colourful and exciting show of her paintings at The Muse Gallery which was heavily featured in the National press.

And wonderful if controversial local art gallery Louise T Blouin Foundation offered an exclusive 2 for 1 entry offer in the Festival brochure.


Mixing It Up: Arts Lab Alchemy




Other arts in the 2007 Magic Portobello Film Festival mix included Theatre, Poetry, Comedy, Music, Dance & Magic.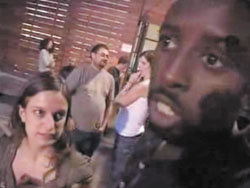 We proudly previewed The People Show show for Edinburgh 2008 in a bus that was parked outside Westbourne Studios. We presented the Grand Old Man of Beat Poetry Michael Horowitz reading from his magnum opus The New Waste Land. We had a wonderful Poetry Slam masterminded by Tony Knock from Knockabout Comic (UK publishers of Robert Crumb and Alan Moore) at The Inn On The Green.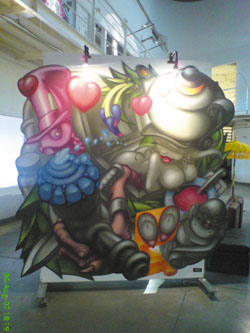 Courttia Newland curated a spellbinding evening of African storytelling The Sarungano Sessions at The Inn with Sharmilla Chauhan, ShortMan, Patricia Fraser and Dorothea Smart. Ken Campbell previewed his 2007 Edinburgh show. BBC2 Culture Show comedy fave Ted Chippington and sexgod and musical genius Earl Okim had them rolling in the aisles at The Inn, where on another occasion JC from The Members regaled us with one off musical history of Portobello Road and Lepke from DBC proved he is still the best DJ in town with the sweetest old school reggae.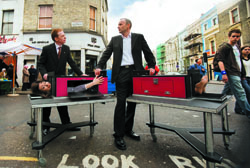 The Magic theme was held together by members from the Inner Circle of The Magic Circle - Michael Vincent, Nigel Mead, Adam Keisner and the great Richard McDougall (who has performed for the Queen and the late Queen Mother) - with close up magic at the opening gala and a special show at the Inn On The Green on the last night.

Admission to all events at the Portobello Magic Film Festival was free.