BACK TO OVERVIEW


PORTOBELLO FILM FESTIVAL
COUNTERCULTURE 2006


Statistics

More pictures

PFF 2006 programme




Overture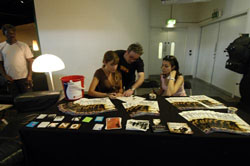 Reception Desk

Portobello Film Festival 2006 exploded onto the world with a Bella Freud coordinated Fashion Show at Westbourne Studios, featuring new and vintage clothes from Portobello Market, modeled by Erin O'Connor, Susie Bick and Iris Palmer, to the music of Gaz's Rockin Blues. Bella and John Malkovich's cult movie Hideous Man was also screened. An exhibition of vast paintings by French poster maestros Les Freres Ripoulin and inflatable graffiti by Gordon McHarg decorated the cavernous sub Westway space.

At the same time, at The Inn On The Green, Rob Newman presented his political comedy show A History Of The World Backwards. As with all events at the Portobello Film Festival, entry was free.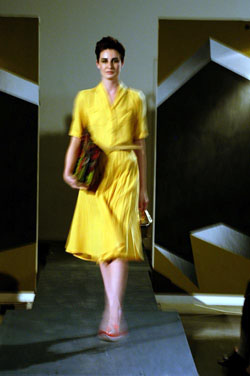 Erin O Connor

Attendance and press coverage were spectacular. The doors at the Rob Newman show had to be closed due to excess capacity and the performance relayed from the theatre space to outside via an AV link. The Fashion Show featured prominently in The Guardian and The Evening Standard. The Standard also printed a full page piece on featured local graffiti artist, Alex Martinez, publicising the Festival.

Warm up shows had already taken place at The Cobden Club, The Westbourne Tavern with the launch of a photographic exhibition by John "Hoppy" Hopkins curated by Sebastian Boyle, and at The Inn On The Green where Ken Campbell had previewed his Edinburgh Festival Shakespearian impro show.


Counterculture




This year's Festival theme was Counterculture.
Portobello has long been an international Countercultural centre and this is what provides much of it's appeal. Local author and historian Tom Vague wrote a wonderfully researched and poetic text about Portobello Counterculture Psychogeography 1956 – 2006, illustrated with a map by local artist Mark Jackson, for the Festival brochure and website.



| | |
| --- | --- |
| | |
Ripoulin Paintings


Brochure cover artist was Ralph Steadman, original illustrator for Hunter S Thompson's Fear And Loathing series, who contributed a heartfelt anti-war cry prompted by the Lebanon/Israeli that coincided with the Festival this August.

Many of the people featuring in the Tom Vague's article appeared at the Festival - from the London Free School to Hawkwind, from the 80s Rough Trade Records crowd to musicians from the Marley Family.

Local photographers John Hopkins and Charlie Phillips displayed photos of Portobello from 60s when it was a bohemian ghetto far removed from it's present gentrified preeminance. John's pictures were of the emerging hippy movement including a nude Alan Ginsberg. Charlie's were of the local Caribbean community. A film about Charlie's life and work was awarded a special prize by Agnes B.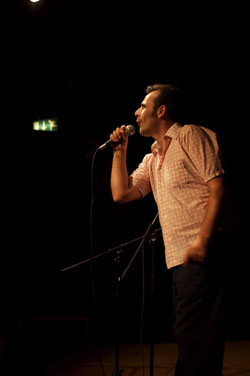 Rob Newman

Evenings of film were dedicated to local Caribbean, Spanish and Irish communities who contributed to the area's evolution.

Other underground, local, and front line acts appearing included Alabama 3, Gaz Mayall's Trojans, DJ Splackavelli (from the Marley Family), and even the first performance for 20 years of punk legends The Members. All for free.

Comedy was organised by Tony Allen, the inventor of Alternative Comedy here in Ladbroke Grove in the 70s, with two shows from Ken Campbell, one from ex Fabulous Poodle Ronnie Golden, and a very popular Slam Poetry Competition hosted by Johnny Fluffypunk.
Total audience numbers for the Festival were around 13,000. 68% of the audience was new.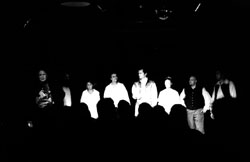 Ken Campbell and friends



In The Mix




Boyle Family hosted the London Free School evening, a tribute to Mark Boyle and Syd Barrett. After an afternoon of contemporary Portobello films, this reunion of Portobello movers and shakers from the swinging sixties including Joan Hills, John Hopkins, and Dave Tomlin started with the films of docu-innovator/poet Peter Whitehead – the inventor of the pop documentary and the music video, followed by rarely seen original Boyle Family performance art recordings, a panel discussion, and a poetry reading from Michael Horowitz. In the Courtyard the groundbreaking Pink Floyd and Soft Machine lightshows by Mark Boyle and Joan Hills were projected in the round to a modern psychedelic soundtrack.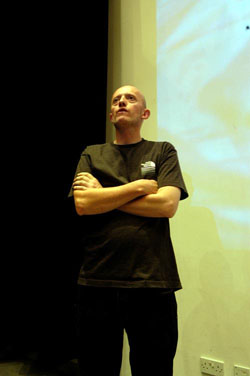 Sebastian Boyle

The Festival ran from ran from 31 July to 22 August at at least two separate venues every night- sometimes three. On Saturday 12 Bob Marley And The Wailers Live At The Rainbow played in the Cinema Circus Tent, The Members reformed at The Inn On The Green, and a London Film Makers Convention took place at The Paradise. On Thursday 17 Satirists Black Eye presented a night of black comedy and film at Westbourne Studios, Ken Campbell offered his solo show Eccentric at the Inn On The Green, and the Human Rights Watch Festival screened the UK premiere of South African refugee epic Conversations On A Sunday Afternoon at Westbourne Grove Church.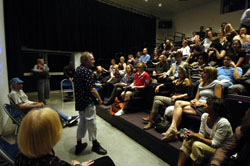 Michael Horowich

Arts were combined and mixed up at some venues on the same evening. Hawkwind played their Space Ritual, alongside a screening collaborator Michael Moorcock's cult movie The Final Programme. VJs Hexstatic played in the Westbourne Courtyard alongside Glastonbury Festival's Midnight Circus, featuring Screamin Blue Murder and Joe Rush's car scrap sculpture exhibition of anthropomorphic aliens, as the cream of London's filmmakers showed their latest work – hot off the edit suites - in the cinema.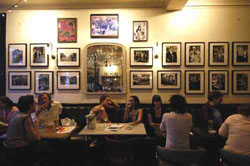 John Hopkins Exhibition



600 New Films




Main venue, Westbourne Studios, was full to overflowing every night , as recorded by this correspondent to the Withoutabox Festival Chatroom (unsolicited):
"I thought it was a real fun night. The only slight niggle was that it tends to get full around 7:30. By full I mean heaving, people stood on the stairs and down both wings of the cinema. My film showed at 6:45 and so seating was 2/3 full and one of the wings had lots of people standing in it. I think if your film shows anytime after 7:30 you're going to get a full house. As it stood mine was a little earlier but still had a great reception. I even got chatting to one of the other filmmakers who had his short on before mine. It was a really friendly environment."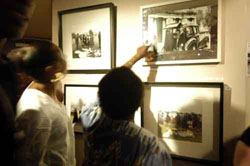 Charlie Phillips Exhibition


Trois Carres from Les Freres Ripoulin presented a History of French Video Art, featuring work from Jean Genet to the present day, and David Ellis of the ICA introduced and contextualised a series of video art works from Simon Tysko.

Top Dutch Video Artist Arno Coenen came over from Holland and gave a masterclass on 3D Animation and Graphics. Rose Cupit from Film London organised two very enlightening educational funding sessions from Artists Moving Image Network illustrated by work from the likes of video artists no.w.here.




DJ Splackavelli

A new highlight of the Festival was to showcase presentations from other London Film Festivals: Halloween, Soho Super Shorts and Something from Brasil. We also presented a Human Rights Watch Film Festival Evening at new venue Westbourne Park Church (designed by Manhattan Loft Corporation) with Conversations On A Sunday Afternoon from South Africa and a talk on HRW activities. Martin Robertson brought over and introduced two days of the Ideas In Motion International Ecological Festival from Canada.

International films were especially well represented this year with half the 600 movies shown coming from abroad. Work from Ireland, Holland and Spain (supplied respectively by partners Network Ireland, Holland Film, and Madrid Film School) were given special evenings. Half the international movies came from Europe with rest coming from as far afield as USA, Canada, Italy and even Israel, Iran, Montenegro and Singapore.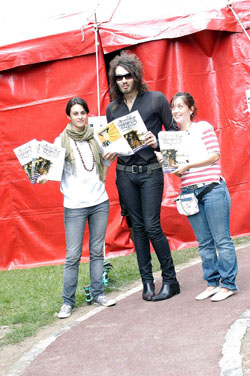 Russell Brand with PFF volunteers

After last year's largely rained off park event with the Megascreen, we screened the Family Films Weekend in a rainproof Cinema Circus tent (and it did rain). Full houses in afternoons for Pirates Of The Caribbean, Madagascar and Strictly Ballroom entertained the kids, many of whose previous film viewing had been limited to home DVDs.

In the evenings in the park Cinema Circus tent adults were treated to Glastonbury, Bob Marley and The Wailers Live At The Rainbow, and Shooting Dogs.


Just For You London




Of the UK movies screened two thirds (199) were from London.

The fact that 35% of our audience heard about the Festival from family, friends or word of mouth indicates a successful relationship with the local community – North Kensington – which is one of the 20% least well off wards in UK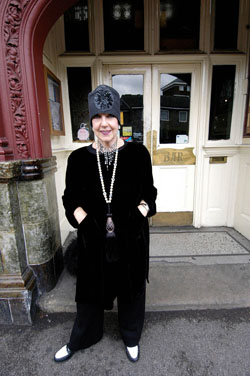 Molly Parkin at The Paradise

There was a welcome return this year for the Portobello Film Festival Video Café where filmmakers and audience can select movies from a menu and bring their own films on the night. Two screens at the Inn On The Green played host to special requests from Germany, Italy and local families. Most of the music, comedy and poetry events were held at this wonderful new venue.

The Festival was heavily featured on most London Tourist websites like LondonTown, Londonist, Time Out, Last Minute, and Visit London and even in the Easyjet and Portuguese Airways inflight magazines. Robert Elms on Radio London reckoned Portobello Film Festival is now an institution on the London cultural landscape, and BBC London TV featured us in their evening slot with a live feed from Westbourne Studios, hosted by Brenda Emmanus. We had a number of visitors from overseas who had come especially for the Festival including a couple from the USA.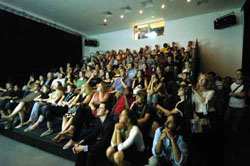 Westbourne Studios

21 unemployed people gained Work Experience and Training in Event Management based on the practical running of the Festival, learning skills from front of house to photography to administration. One volunteer has now taken up a post as Education Officer at the Tricycle Theatre. The website was radically redesigned by webmeister Thomas "Thadeusz" Szabo from Leipzig, Germany – the birthplace of Johan Sebastian Bach.

The Festival climaxed with our Award Ceremony at the Electric Cinema, hosted by actress Jenny Runacre and local author Courttia Newland.

Best Film: JVC Digital Camera Prize
Roots Time (UK) Silvestre Jacobi

Best First Film: Agnes B Award/ Medal & 500GBP
Rootical (UK) Nike Hatzidimou

Best London Film: Weekend for two at Royal Park Hotel W2
Attack Of The Clones (UK) Paul McCrudden & Alexander Thomas

Best Comedy: JVC VHS/DVD Combi
The Wall (UK) Punchdrunk

Best Direction: 100GBP Fopp Vouchers
The Pitch (UK) Michael Alexander Dobbin

Best Cinematography: JVC VHS/DVD Combi
Eddie Loves You (UK) Karl Holt

Most Promising Newcomer: JVC VHS/DVD Combi
Our Fate (UK) Mark Faduola

Portobello Special Appreciation Award: 100GBP Eclipse Bar Vouchers
Skanked (UK) Blackeye Films

Best Musical: PFF Certificate
Bhai Bhai (Fr) Olivier Klein

Best Animation: PFF Certificate
Parade D'Amour (Georgia) Tamara Sulamanidze

Best Foreign Film: PFF Certificate
A Word From Our Sponsors (USA) W. Lorenc



Many many thanks to our wonderful Supporters:




Arts Council England
Paddington Development Trust
Film London
Royal Borough of Kensington & Chelsea
Time Out
JVC
Workspace Group
Fopp Music, Film & Book Shops
Agnes B
Cobra
Countrywide Markets
The Inn On The Green
Royal Park Hotel
Westbourne Grove Church
The Paradise By Way Of Kensal Green
The Electric
The Cobden Club
Eclipse