Portobello Film Festival 2004

The 9th Portobello Film Festival ran from the 6 to 22 August 2004 with 28 separate screenings at 5 different venues around North Kensington plus a launch party at The Cobden Club on June 2 and an Awards Ceremony at The Electric Cinema on August 24. Entry to all events was free and every film submitted was screened.


Westborne Studios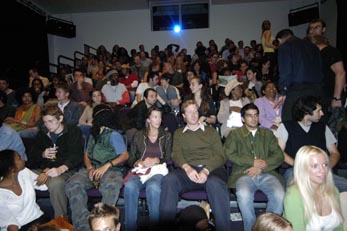 Flagship venue Westborne Studios, Acklam Road W10, featured themes including Visions Of Africa, UK Shorts, films from Palestine and Israel, Drama, Music videos and documentaries, Community Filmmaking, Art & Multimedia, Local (London & West London) Films, Low Budget Features and a Special Grand Finale day with new work from Shane Meadows and Harvey Keitel, a selection of shorts from this year's Glastonbury Festival, musical spoofs of Terminator 2 and Sixth Sense, and Vertov's Man With A Movie Camera scored by the Cinematic Orchestra.

Westborne Studios was well attended this year with up to 500 people a night thronging the Cinema and the atrium bar and restaurant space outside where films were also projected. The Cinema was often full at 6pm. The independent film sector now shows signs of breaking through to the mainstream.
Especially popular were the two nights dedicated to UK Shorts. Film Council Short Circuit said they had never seen so many people and such enthusiasm at a short film screening. Most of the filmmakers and crews came to introduce their work to each other and the public, and to network and party. The Westborne atrium is a remarkable large, light and democratic architectural art space with the Westway itself as the roof.




The Israel/Palestine evening gave rise to much heated debate. The Africa evening showcased The Great Dance sponsored by Survival International, about the fight of the Kalahari Bushmen against the rape of their ancestral lands by De Beers, which eventually won Best Film Prize- A JVC Digital Camera, that has since been given to the Bushmen themselves to record their lives. Juan Gerard's Cuba Libre produced by and featuring Harvey Keitel in a story about the Cuban revolution seen through a child's eyes was a special treat on the last Sunday.


Education and Audience Development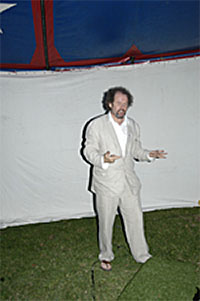 Talks, Q & As, Seminars, and Presentations distinguish Festivals from ordinary screenings and are always very popular with the audience, which consists for the most part of young(ish) people interested in new developments, the frontiers of film and getting a break in the industry. Kate Gerova from Film Council's Short Circuit Project introduced a selection of their best films and described short film funding opportunities. Whitehouse Pictures spoke and screened on Music video making for the likes of Keane and The Charlatans. Metrodome presented a fascinating evening, illustrated with clips, on how to market leftfield work like Monster and Donnie Darko. They also showed this year's Oscar Winning Animated Short, Harvey Krumpet by British director Adam Elliott. And Rick Elgood, co director of Dancehall Queen and One Love, talked about digital filmmaking on the mean streets of Jamaica and his most recent project Two Culture Clash, the Wall Of Sound West meet Jamaican producers CD and film. For the duration of the Festival, Westborne Studios also played host to an exhibition of photos taken by local people of the area- North Kensington, one of the 10% least well off wards in UK, opened by Barry Phelps, Mayor of the Royal Borough of Kensington and Chelsea. A collection was taken for the Oxfam Sudan Appeal at the information desk.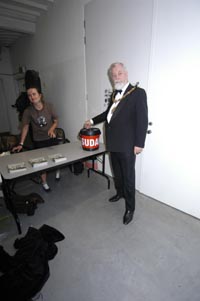 The Portobello Film Festival 2004 was as usual produced by an enthusiastic and motivated group of volunteers on a work experience programme in Event Management funded by Royal Borough of Kensington and Chelsea, Golborne SRB and Campden Charities. The Festival itself was supported by Film London to whom great thanks, also by Cyberlink, JVC, Time Out, Third Planet, Seriously Vodka, GuestHouse West, Westborne Studios, The Electric Cinema, The Cobden Club, The Paradise, The Elgin and The Westway Sports Bar – again many thanks for sustaining a unique film festival.


Meanwhile Gardens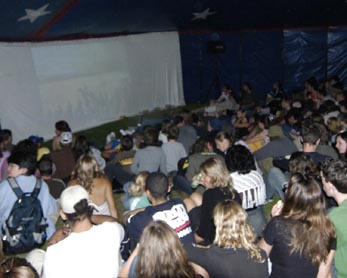 Mike Figgis showed three of his rare documentaries on Vivienne Westwood, Frankfurt Ballet and Flamenco Women and gave a masterclass in documentary film making in the Cinema Circus Tent in the al fresco three day highlight of the Festival on Meanwhile Gardens Park, Elkstone Road W10. Due to a funding shortfall there was no megascreen for sunny outdoor family film viewing this year (just as well, it rained!) but the Cinema Circus Tent screening Matrix Revolutions, The Return Of The King, Skateboarding movies including Stoked, and Troy linked to an outdoor screen back projected from the ACAVA communications truck made up for this. Troy was particularly popular, with different sections of the audience rooting vocally for either the Trojans or the Greeks.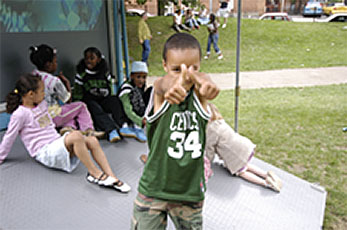 Sunday In The Park also featured a Skateboard Jam in the Meanwhile Gardens Skatebowl organised by Portobello Film Festival designers Third Planet and starring some of the Worlds top skateboarders. There were several cafes offering ethnic food, stalls, and a bar for the thousands of Festival goers flocking to the event. Security was provided by the Portobello Trust and there was no trouble. Festival volunteers stewarded the event.





The Paradise, The Elgin & The Video Cafe

A new venue for the Festival this year was The Paradise By Way Of Kensal Green in Kilburn Lane. Though outside Kensington, many old Portobello Road hands now live in Kensal Green, and this wonderful Bohemian venue has much of the spirit of Portobello about it. An opening party was held here previewing some of the Festivals best films followed by four weekday evenings with themes ranging from comedy to drama to more local work.

The Festival presented four nights of visceral, almost punk film making at The Elgin, Ladbroke Grove, and a week's Video Café VJed by the sublime Collins Warner at The Westway Sports Bar, Crowthorne Road W10. The Video Café was open for late entries to bring their films along and screen them on the night.


Press And Publicity

Brochure distribution was good this year, with most of the audience knowing exactly what they wanted to see. Full venues would frequently empty for one screening only to fill up immediately after for the next screening. There was the usual stalwart support from Time Out, plus a full page article in The Telegraph Arts section, write ups in The Times, The Independent and The Guardian weekend guides, a large piece in the local Kensington & Chelsea Gazette, interviews on Radio London and LBC, trailers on LBC, Capital Radio and XFM.


The Electric Cinema Awards Ceremony

The Festival climaxed with an Award Ceremony at The Electric Cinema, Portobello Road, London W11, hosted by local actor and James Bond star Colin Salmon, with prizes being awarded to the winners listed below:


JVC Digital Cinema Awards

Portobello Film Festival 2004 Best Film
James Hersov
The Great Dance

Portobello Film Festival 2004 Best Director
Greg Hall
The Plague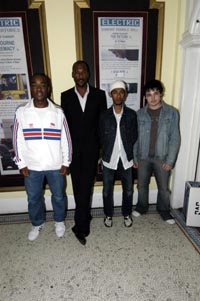 Portobello Film Festival 2004 Best Screenplay
Vicki Psarias
Rifts

Portobello Film Festival 2004 Best Cinematography
Ivan Kavanagh
Reflections


GuestHouse West Special Award
Portobello Film Festival 2004 Special Independent Film Award
Martin Wilkinson
Van Driver


Cyberlink Independent Film Making Awards
Portobello Film Festival 2004 Best Music Film
Hexstatic (Stuart Warren Hill)
Salvador

Portobello Film Festival 2004 Best Animation
Simon Robinson
What Barry Says

Portobello Film Festival 2004 Most Popular Film
Rachel Davies
Gold

Portobello Film Festival 2004 Having A Laugh Best Comedy Award
Dishad Husain
Holly Bolly

Portobello Film Festival 2004 Best Documentary
Ishmahil
Roaring Lion


Seriously Vodka Portobello Film Festival Awards
Portobello Film Festival 2004 Special Mention
Hulya Geezer
Absolutely Alive-Rocket Child

Portobello Film Festival 2004
Greatest Programmer In The History Of The Universe Award
Raymond Myndiuk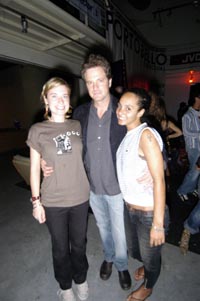 Jonathan Barnett September 17 2004