Saturday 12 Sept
the Mosaic Rooms

FAMILY FILM SHOW
FREE ENTRY



2pm


POOH'S HEFFALUMP MOVIE
(U)
Winnie the Pooh and his friends hear a strange noise
and find a set of large, perfectly circular footprints in
the Hundred Acre Wood. They jump to the conclusion
that the prints are from a heffalump, and Rabbit
organizes an expedition to go try to catch it.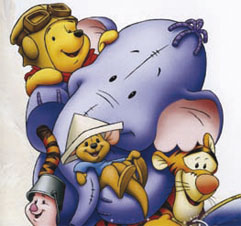 Portobello Film Festival in association with the Royal Borough of Kensington and Chelsea Early Years Service, presents six days of free family film screenings at The Tabernacle, Powis Square, W11 2AY and the AM Qattan Centre, Tower House, 226 Cromwell Road, SW5 0SW.


The Early Years Service of Kensington and Chelsea has a strong commitment to improve experiences and learning opportunities for young people and their families. The Portobello Film Festival offers an exciting range of films this Summer that will be accessible to communities in the North and the South of the borough. The intention is to encourage families to share the enjoyment of watching a films together and make it a social event in everyone's calendar.



FAMILY LEARNING POETRY COMPETITION

Write a short poem about the family film you saw and send it by 23 September, with your name and address, to: PFF, Acava, 54 Blechynden St, W10 6RJ or pff@btopenworld.com. Our 5 favourite poems will each win a £50 Waterstone's Book Token



Children must be accompanied by an adult. Please note Tabernacle shows start at 10am & the Mosaic Rooms shows start at 2pm


back to schedule